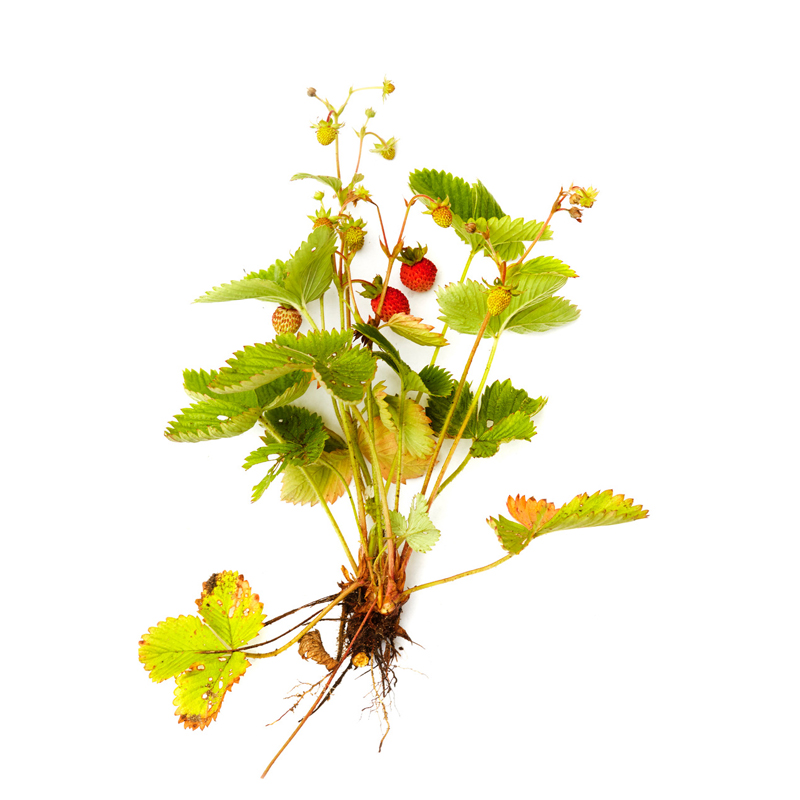 Wild strawberry
In Swedish, wild strawberries are called "smultron"—a word that melts in your mouth just like the fruit they describe. Wild strawberries taste like summer and sunshine, and they offer the perfect berry-picking experience for children.
Where to Find It

Wild strawberries creep around below the knee on hills and slopes, often going unnoticed. They grow in clearings in the forest and in meadows, and you can often find them in residential areas and gardens where people have planted them as ground cover. They're less common in western Denmark.

Deciduous forests, towns, hedges, roadsides.


When to Find It

You can pick wild strawberries from June until August.

Berries: June, July, August.


How to Spot It

Wild strawberries are bashful little plants that don't grow taller than 15 or 20 cm, and generally a good bit shorter than that. However, they can cover a lot of ground. The plant has three-fingered leaves with pale undersides. It blossoms with small, white flowers in May and June, whose yellow center develops into the red fruit later in the summer.  

How to Pick It

Wild strawberries often grow as ground cover in residential areas alongside hedges and at the edge of woods, where they're an easy target for dogs answering the call of nature, so be sure to wash off the berries before eating them. Wild strawberries are normally easy to pick, but if they're so ripe that they turn to mush in your fingers, try clipping them off with a centimeter of the stem. Bring along a plastic container with a tight-fitting lid when you go to foraging, and exercise patience. It can take a long time to gather wild strawberries, but they're well worth the effort.
On the palate

Wild strawberries are sweet and aromatic with a gentle acidity. Their flavor is more floral and concentrated than that of regular strawberries.

Aroma

The berries have an intense berry aroma that really develops when they are sprinkled with sugar.
Preparation

Eat wild strawberries raw or use them in desserts.

Uses

Ice cream, cakes, pies, and similar desserts made with wild strawberries are a true delight, especially when combined with mint. You can also make juice from the berries or spiced schnapps.

Storage

Wild strawberries don't have a long shelf life. Store freshly picked berries for a day or two in the refrigerator and freeze any that you don't plan to use right away. To freeze wild strawberries, lay them out on a tray, then place it in the freezer so you don't end up with a big lump of red ice. Pour the loosely frozen berries into bags.

Substitutions

Wild raspberries.
Risk of misidentifying the plant
Wild strawberries can be mistaken for green strawberries and barren strawberries. Both are good, edible species of strawberries, but are quite rare. In residential areas people often plant ornamental varieties that are tasteless; these berries are usually more oblong shape than proper wild strawberries, which are round.