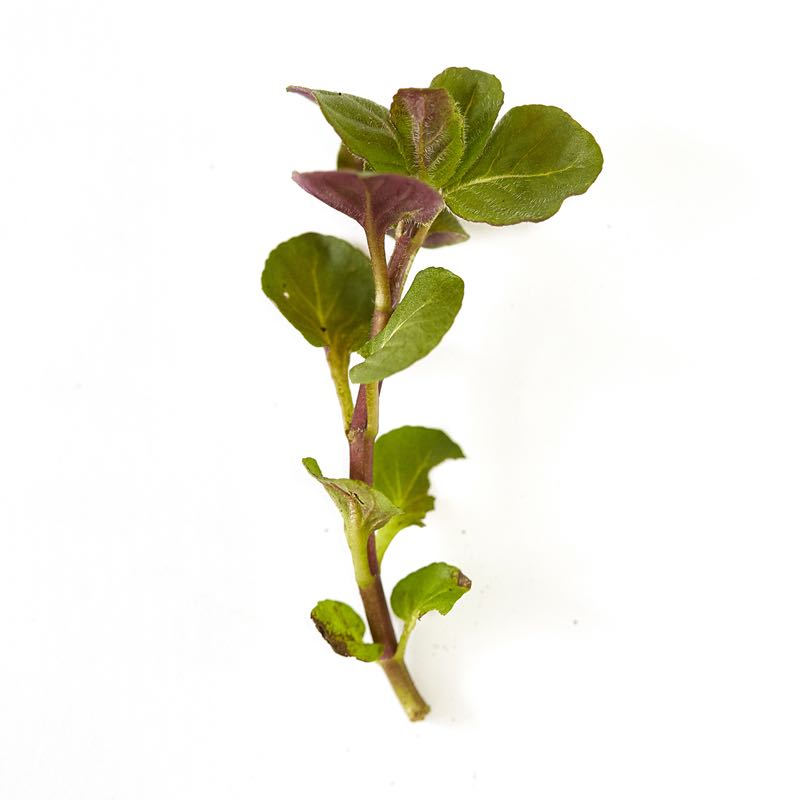 Water mint
There are many types of wild mint, which are constantly crossbreeding with one another. It's not always easy to tell them apart, but they're all edible and tasty. Water mint is one variety.
Where to Find It

You can find water mint all over Denmark. It thrives in very moist soil, so look for it along streams and lakes and near mud holes, where it often grows abundantly. It forms dense, green clusters with splashes of light purple flower heads.

Streams, lakes, roadsides.

When to Find It

You can gather water mint from May until October. It blooms from July until September.

Entire plant: May, June, July, August, September, October.
Flowers: July, August, September.

How to Spot It

Water mint is an herb with a reddish, square, almost hairless stem that normally grows to be 20-80 cm tall. In spring, the leaves on the young plants are rounded, egg-shaped, and reddish. As the plant grows, the leaves turn greener, and become more oblong and tapered, with visible veins that stand out from the surface. The flowers, which are small and light purple, can either grow in rounded, ball-shaped heads at the top of the stem, or in rings around the top of the plant.

How to Pick It

You can use the stem, leaves, and flowers. Snip or clip the plant starting halfway up the stem so you get the freshest parts of the plant.
On the palate

Water mint's flavor can vary a great deal in intensity, ranging from mild to strong peppermint, and containing hints of turpentine and citrus oil, with a slightly bitter aftertaste. The leaves are tender and luscious; the stem is crisp and succulent.

Aroma

Water mint has a distinctly minty scent.
Preparation

Water mint can't tolerate cooking, but you can add it to hot dishes after they've been prepared. You can mix it in drinks, hot soups, and sauces, or use it to produce aromatic infusions like syrup or oil. You can also add it to jelly or marmalade. You should use the flowers fresh and raw.

Uses

Water mint works well in both sweet and savory dishes. Its fresh aroma and taste cut through rich foods and adds another layer of flavor to spicy Asian and North African recipes. Its flavor also shines in beverages, or in a simple dish like pasta tossed with water mint, butter, garlic, and parmesan. In savory dishes, water mint works well with roasted meat, peas, salads, steamed spinach, grouper, and fish roe. In sweet dishes, it pairs beautifully with chocolate, pears, citrus fruit, and dark-colored berries, like blueberries and blackberries.

Storage

Cover the water mint with a moist cloth and store in a sealed bag or airtight container inside the crisper drawer of your refrigerator, where the leaves will stay fresh for up to one week. The flowers will rarely keep for more than three days.

Substitutions

Other types of mint can be substituted for water mint.
Risk of misidentifying the plant
There is no risk of mistaking the plant for another dangerous or undesirable plant.