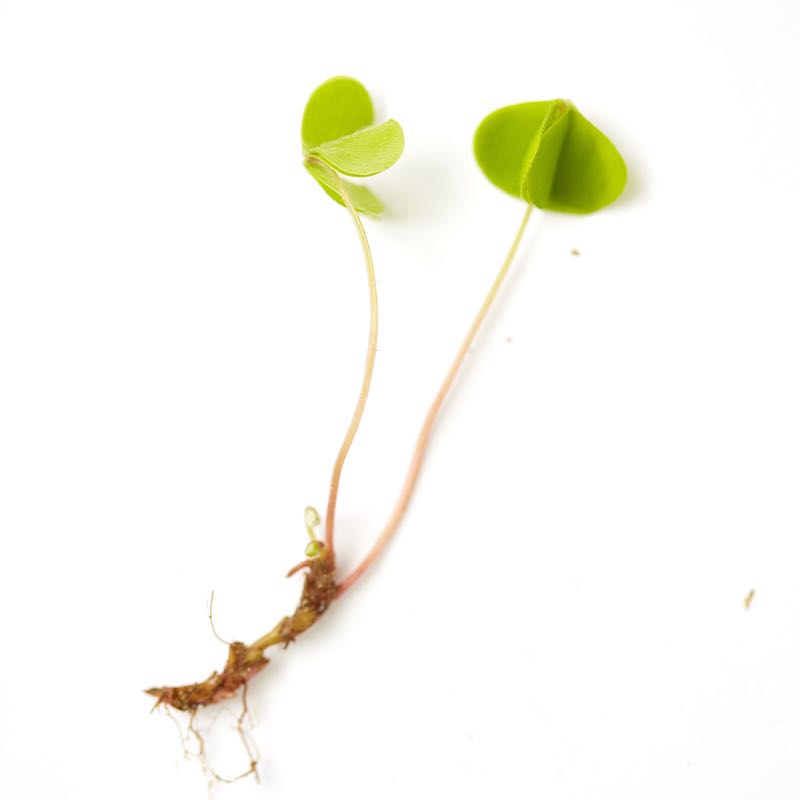 Wood sorrel
Wood sorrel is also referred to as a shamrock because of its clover shape and sour taste. It's good as a fresh element in both sweet and savory dishes.
Where to Find It

You can find wood sorrel all over Denmark, though it's a little less common in northern and western Jutland. It doesn't need very many nutrients or sunlight, so it often grows in dark, nutrient-poor places where other plants cannot survive. When looking for wood sorrel, you should seek out open areas in between the trees where the sun's rays seldom reach.

Deciduous forests, coniferous forests, towns.

When to Find It

Depending on the weather conditions, wood sorrel grows between April and June—when the anemones are done blooming. It has the strongest taste in spring, but unless it was a hard winter, you can pick the plant year round.

Entire plant: Year round.

How to Spot It

Wood sorrel is a clover-like plant with a wispy, bright green stem that is five to ten cm, and and heart-shaped leaves that grow in threes. The leaves can turn a pale reddish color on the underside. Since wood sorrel thrives in areas where other plants would normally give up, it has the tendency to completely take over and form a soft, bright green blanket that covers the forest floor. The flowers are yellow in the center and have five white petals with pink-violet stripes and a thin pink stem. Wood sorrel seeds grow in a small green pod.

How to Pick It

Wood sorrel is small and delicate, so you can easily end up pulling up the entire plant up by its roots. If clip or cut from the stem so the plant can continue to spread and grow. Be careful when you pick wood sorrel so you don't pull up too much dirt with it; otherwise it will be quite the job to clean it back at home in your kitchen.

NB!

The Ministry of Environment and Food of Denmark recommend limited consumption. This is due to the amount of oxalic acid.
On the palate

Wood sorrel tastes fresh, green, and acidic, with nuances of rhubarb. The stem is crisp and the leaves are soft. It feels juicy in your mouth and its distinctive acidity will make your mouth water.

Aroma

Wood sorrel has no particular scent.
Preparation

Wood sorrel can't tolerate very high heat for a long time; it loses its flavor and crispness, and turns brown as soon as it comes in contact with hot food. It is therefore best used raw, but it can be mixed with sauces and juices.

Uses

You can use wood sorrel as a decorative element, but it can also boost acidity in both sweet and savory dishes. It's a good alternative to other acidic ingredients like lemon or rhubarb. Its distinctive tartness opens up for many possibilities—it's just a matter of experimenting. Use wood sorrel to set off creamy elements; to enliven a mild sauce, mayonnaise, or dressing; or alongside grilled fish.

Storage

Cover the wood sorrel with a moist cloth and store in a sealed bag or airtight container inside the crisper drawer of your refrigerator, where it will stay fresh for up to one week.

Substitutions

Other types of acidic ingredients like garden sorrel or sheep's sorrel can be substituted for wood sorrel. Although it's not ideal, another possibility would be to substitute Japanese knotweed for it.
Risk of misidentifying the plant
There is no risk of mistaking the plant for another dangerous or undesirable plant.