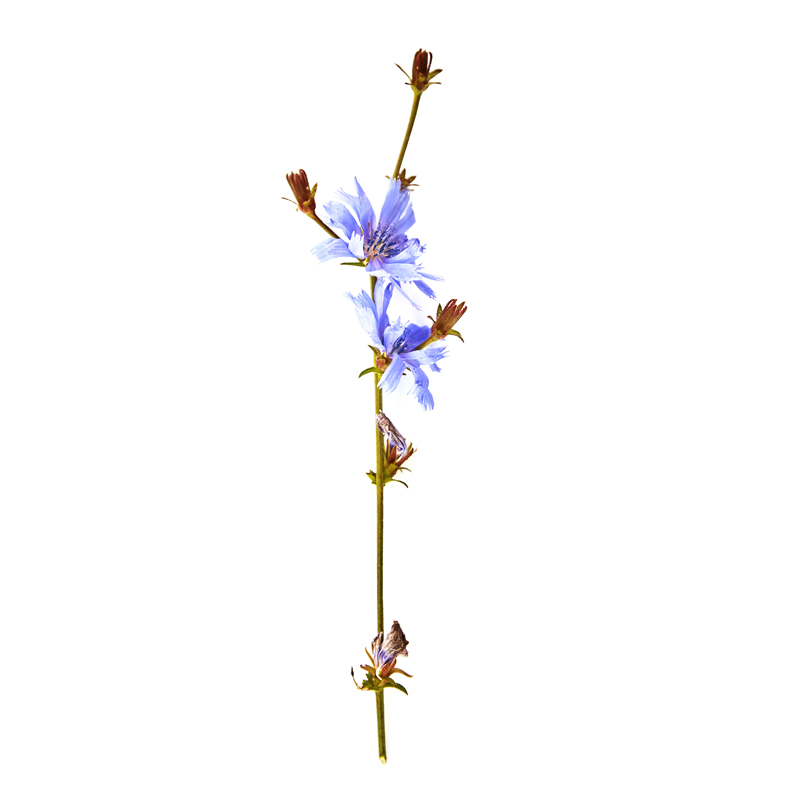 Chicory
The pretty light blue flowers you see by the roadside in summer are chicory, a coveted bitter salad green in Italy and france. A white version of the plant, grown without sunlight, goes by the name Belgian endive and is available at local markets.
Where to Find It

Chicory grows all over Denmark, but less abundantly in northern and western Jutland. Look for it in dry soil that has plenty of nutrients and sunlight. It commonly comes up along roads and in ditches.

Towns, roadsides, grasslands, salt marshes.

Where to Find It

Chicory leaves taste best before the plant begins flowering; after that, they'll be too bitter.

Leaves: April, May.
Flowers: June, July, August, September.

How to Spot It

Each chicory plant bears several light blue flowers the size of a 5-krone piece (or slightly larger than a US quarter). It can grow up to a meter tall and has many side shoots. The leaves spread out on sturdy stems and look like a smaller version of the dandelion's.

How to Pick It

Use a knife or scissors to pluck the chicory leaves—the stem can be tough.
On the palate

Chicory has a bitter flavor with a mild and fruity aftertaste that can also be slightly briny if the plant grows near the ocean. The leaves are crisp, like lettuce or arugula.

Aroma

Chicory has no particular scent.
Preparation

Young leaves are best left raw. You can use the flowers either fresh or dried in an herb salt.

Uses

Chicory's bitterness should be balanced with fatty ingredients and acidic, sweet or salty flavors. Paired with raw or rare lamb or beef, for example, its sharpness will, like horseradish, break through the meat's umami flavor. The leaves can be incorporated in salads where you'd otherwise use bitter types of lettuce such as radicchio, Belgian endive, or dandelions. Raw or dried, the flowers add color and visual appeal.

Storage

Cover the leaves with a moist cloth and store in a sealed bag or airtight container inside the crisper drawer of your refrigerator, where they will stay fresh for up to two weeks. The flowers wilt quickly, so it's best to eat them right away.

Substitutions

Chicory leaves and flowers can be replaced with dandelions.
Risk of misidentifying the plant
There is no risk of mistaking the plant for another dangerous or undesirable plant.