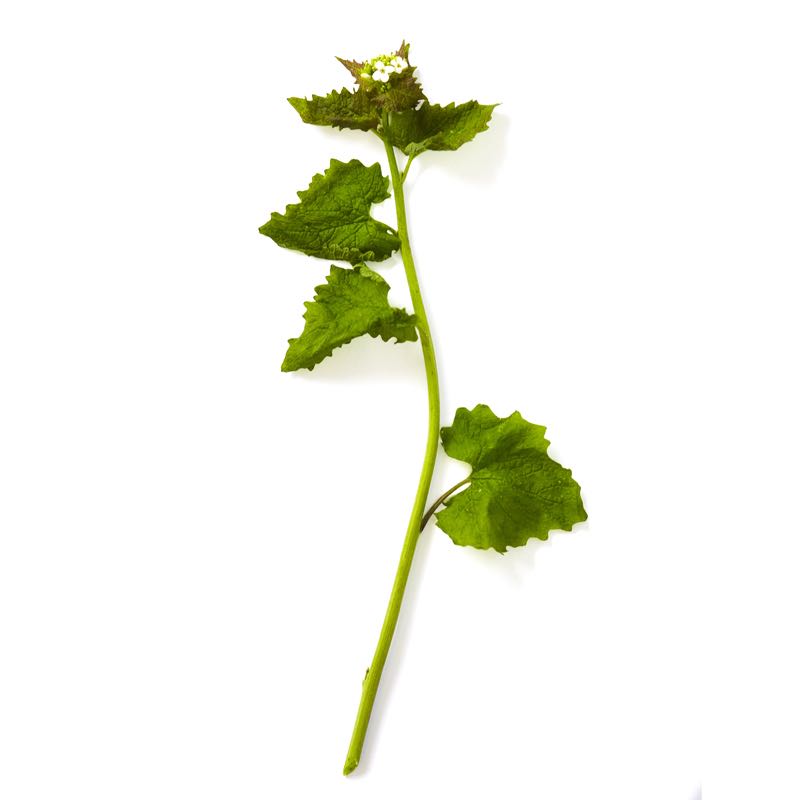 Garlic mustard
Garlic mustard grows aggressively enough to be a nuisance, but it's also flavorful, easy to use in cooking, and always on hand in nature. It contains mustard oil, which stimulates the appetite.
Where to Find It

Garlic mustard can tolerate both full sun and shaded areas, and it's fairly common in many different kinds of landscapes. Check the edge of woods, forests, hedges, and grasslands, near mounds of seaweed, or shrubbery in parks or gardens. It can cover large areas and grows in characteristic belts of pale green with small, white flowers. You can follow your nose to find it, as it smells strongly of onions.

Salt marshes, beaches, deciduous forests, coniferous forests, towns, hedges, roadsides, grasslands.

When to Find It

You can pick the leaves from garlic mustard year round, but the best time to pick them is before it blooms and the leaves get too rough. It blooms from May until June.

Leaves: Year round.
Flowers and seeds: May, June.

How to Spot It

Garlic mustard has a two-year life cycle, and its appearance changes from its first to second year of life. In the first year, it forms a small, matte green bunch of heart-shaped leaves with rough teeth all the way around their edges. The leaves are roughly notched around the edges, but their surface is smooth, and crossed with visible veins. In garlic mustard's second year, it grows up a meter tall, develops flowers, and spreads its seeds. The leaves get more tapered and shaped like stinging nettles. It develops green seed pods and small, white flowers that grow in rounded bunches.

How to Pick It

When gathering garlic mustard, you can take the entire plant to use—seeds, flowers, and all. The leaves are best when they are young and bright green, and especially before the plant starts flowering. The best part of the stem of the two year-old plant is the top, where it hasn't gotten too rough. Like the bottom of asparagus, it has a spot where it will naturally break when you bend it back. Try to find this spot when you pick the stem. It can be difficult to collect enough of the seeds, so try gathering from several plants.

NB!

The Ministry of Environment and Food of Denmark recommend limited consumption. The plant contains acids that can convert into hydrocyanic acid.
On the palate

Garlic mustard tastes like a mixture of onion, cress, and garlic. In young leaves, the onion flavor is slightly sweet. Otherwise, bitterness is what you'll notice first, but as you chew, a strong mustard flavor develops. The leaves have a soft texture; the stem is crisp.

Aroma

Garlic mustard smells characteristically of onion and garlic. If you break the leaves between your fingers, you'll pick up strong notes of onion.
Preparation

Garlic mustard is best used raw so that the sweet onion notes aren't lost. That said, you can also blanch it, grill it for a long time on low heat, or add it right at the end of your cooking to protect its flavor. Just remember while you experiment that over-cooking will bring out the plant's bitterness and can even render the dish inedible. You can ferment or pickle the stems of garlic mustard, and treat the seeds like fresh mustard seeds.

Uses

Use garlic mustard in your cooking where you would like to add a raw onion or mild garlic flavor. Its complex onion flavor can be used in many ways, from fish to salad. If the bitterness is too prominent, you can balance it out with salt and fat, such as butter or fresh cheese. Garlic mustard works well on classic open-faced and regular sandwiches. It adds an edge of sharpness to bland ingredients like eggs or potatoes, and cuts through the richness of meats like lamb or pork. The crisp stems and small flowers are perfect for salads or as a garnish. You can fill the large leaves with stuffing.

Storage

Cover the garlic mustard with a moist cloth and store in a sealed bag or airtight container inside the crisper drawer of your refrigerator. The flowers should be eaten within 24 hours. The leaves will stay fresh for three to four days; the stem and seeds will keep for a couple of weeks.

Substitutions

Garlic mustard can be substituted with various plants depending on which aspect of the flavor you desire. For a sharp cress flavor, substitute with hairy bittercress or watercress. For onion and garlic flavors, choose ramson.
Risk of misidentifying the plant
There is no risk of mistaking the plant for another dangerous or undesirable plant.