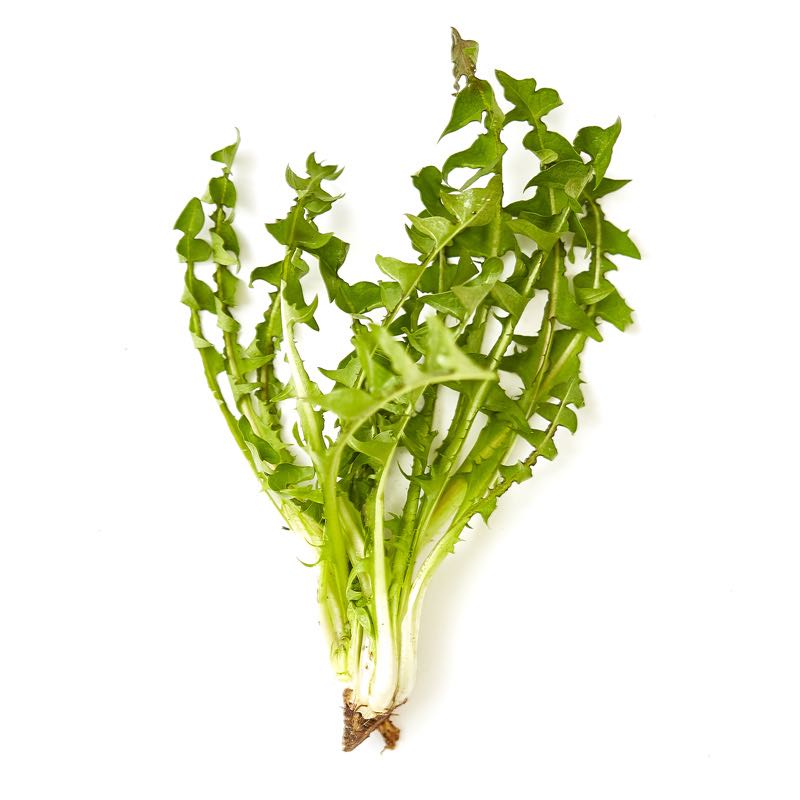 Dandelion
Dandelions are a widely and—considering how delicious they are—unfairly overlooked ingredient in Denmark. In Mediterranean countries, however, they are so highly coveted for their bitter flavor that they're cultivated.
Where to Find It

Dandelions are tenacious and can grow in most types of soil, so you're almost guaranteed to find them no matter where you are. The best-tasting ones, though, grow in shady spots where the sun hasn't turned them too bitter.

Salt marshes, coniferous forests, deciduous forests, towns, hedges, roadsides, grasslands.

When to Find It

Dandelion leaves come available in the spring, with the flowers following right behind as summer nears. If they are mowed, young leaves will keep growing until September. You may even be lucky enough to find low-growing rosettes of dandelions that are still edible in the winter.

Leaves and buds: March, April, May.
Flowers: April, May.

How to Spot It

There are several hundred varieties of dandelions, but they all look more or less the same. The word 'dandelion' translates literally as "lion's tooth"—a reference to the plant's toothed leaves. All dandelions have characteristic yellow flowers and green flower buds.

How to Pick It

For the best eating, pick dandelions before they turn dark green—an indication that they will be tough. You can select only the leaves, or use a knife to cut off the entire dandelion at its base. Pick the buds while they're still round, hard, and firm, and the flowers when they're fresh, succulent, and still have a scent. Try to leave behind as much of the stem as possible. For a more subtle flavor, cover one of the small plants with a bucket or pot for a couple of weeks before picking.
On the palate

Dandelions are bitter and their taste is similar to arugula's. The young leaves can have a subtle nutty aftertaste. Both the buds and the flowers taste faintly of malt, but the latter is more bitter. The leaves are succulent and soft with a light, crisp snap to them. The flowers buds are crisp to the bite, but they feel as soft as cotton on the inside.

Aroma

Dandelions have a light floral scent—sweet and bitter all at once.
Preparation

Dandelions can be used raw or cooked. Cooking tones down some of their bitterness, especially if they're blanched with a bit of vinegar. Frying, sautéing, or grilling accentuates the dandelion's nuttiness, while baking medium-sized leaves until they are crisp gives them a popcorn taste. You can pickle the whole flower head, but the petals are best if you remove them from the head and use them to flavor schnapps, syrup, or juice.

Uses

The dandelion's potent bitterness demands careful balancing with tart, sweet, and salty flavors; Mediterranean cuisine, with its citrus, dried chiles, and olive oil, is especially well suited. You can use raw dandelions in salads as you would any other bitter winter green, or blanch the leaves and substitute them for spinach. Unopened dandelion heads can be fried in olive oil, or turned into a tasty sweet-and-sour pickle. Dandelions are also good paired with smoked ingredients like bacon or hot smoked salmon, or with beets, blue cheese, and nuts.

Storage

Cover the dandelions with a moist cloth and store in a sealed bag or airtight container inside the crisper drawer of your refrigerator, where they will stay fresh for up to two weeks.

Substitutions

Finding a substitute shouldn't be necessary due to the extensive availability of dandelion.
Risk of misidentifying the plant
There is no risk of mistaking the plant for another dangerous or undesirable plant.