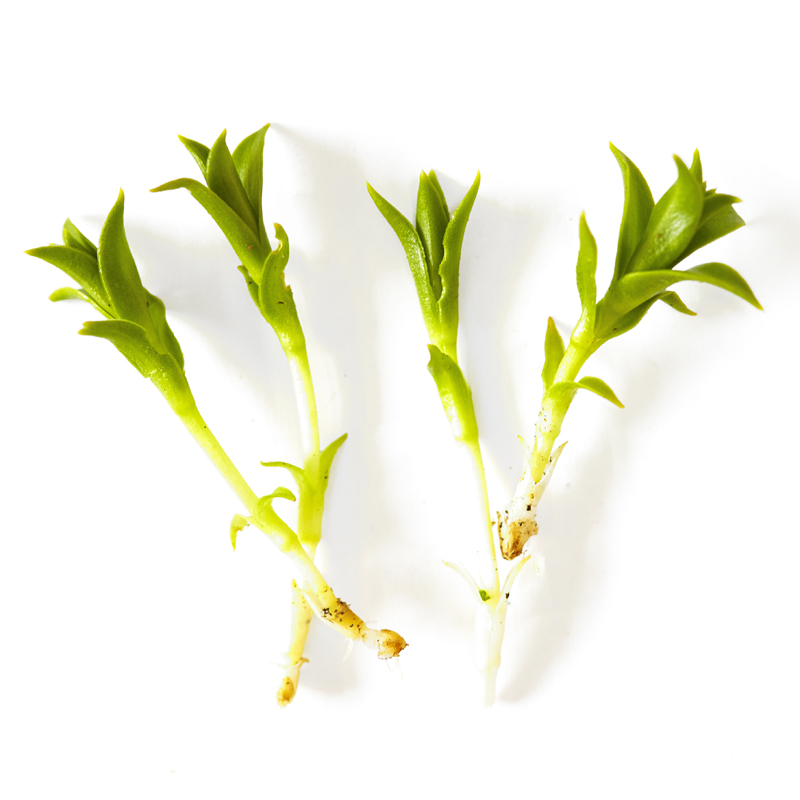 Sea sandwort
The sea sandwort is also called beach cucumber because of its taste. In Iceland, the plant is a mainstay of the local diet, and is traditionally eaten fermented.
Where to Find It

Sea sandwort is one of the few herbs that grow well in loose sand on the beach. You can find it along the entire breadth of the beach, from water's edge up to the dunes. It often grows in low clumps that blanket the beach in green.

Salt marshes, beaches.

When to Find It

As long as temperatures are mild, you can pick sea sandworts from May until October. In the middle of the growing season, it develops flowers and turns tough and fibrous. After flowering, it continues growing and its top shoots again become soft and succulent.

Entire plant: May, June, July, August, September, October.

How to Spot It

The sea sandwort has a very distinct appearance and most closely resembles a small Christmas tree with succulent, triangular branches. It is typically 5-15 cm tall and has sets of four small leaves that sit right above each other along its stem. When the sea sandwort blooms, small white and yellow flowers open in each corner of its top leaves.

How to Pick It

Because it grows in loose sand, it is very easy to accidentally uproot the sandwort. Carefully clip or cut off the top part of the plant—both leaves and stem are edible—and leave a few sets of leaves at the bottom so that it will continue to grow. Once the plant is older and its leaves have become tougher, focus only on the tender parts up top. The sea sandwort takes on the flavor of the surface on which it grows, including downright foul ones. Take your time searching for the very best-tasting specimens.

NB!

The Ministry of Environment and Food of Denmark recommend limited consumption, due to limited knowledge and studies.
On the palate

Sea sandwort is succulent and crisp, with a strong cucumber flavor. It is also briny and mildly bitter. Its bitterness is most prominent when the plant has turned yellow. The taste will vary from plant to plant, and can include sweet notes of peas and pumpkin, or metallic ones reminiscent of raw mussels.

Aroma

Sea sandworts have no particular scent.
Preparation

Because sea sandworts grow directly in the sand, they must be rinsed thoroughly. The plants can be cooked, but they quickly collapse and fall apart, so you must handle them gently. Cooking also strips the cucumber flavor. You can preserve the sea sandworts by pickling or fermenting it.

Uses

Raw sea sandworts can be used in place of cucumber as a garnish, in salads, in dressings, or tossed into a dish right before serving. When raw, it blends nicely with all kinds of salads, salty cheeses, pâtés, and fruit vinegars. Lightly cooked, sea sandwort can serve as a green garnish for most dishes or as a modest side dish by itself. It goes particularly well with fish and shellfish, fats like olive oil or butter, fermented umami sauces like fish sauce and soy sauce, and white meats like pork or chicken. Pickled and fermented, you can use sea sandworts as a garnish with fish or shellfish dishes—or even on a hotdog.

Storage

Cover with a moist cloth and store in a sealed bag or airtight container inside the crisper drawer of your refrigerator. The leaves will keep for five to seven days.

Substitutions

Can be replaced with sea asters and orpine picked from coastal areas.
Risk of misidentifying the plant
There is no risk of mistaking the plant for another dangerous or undesirable plant.