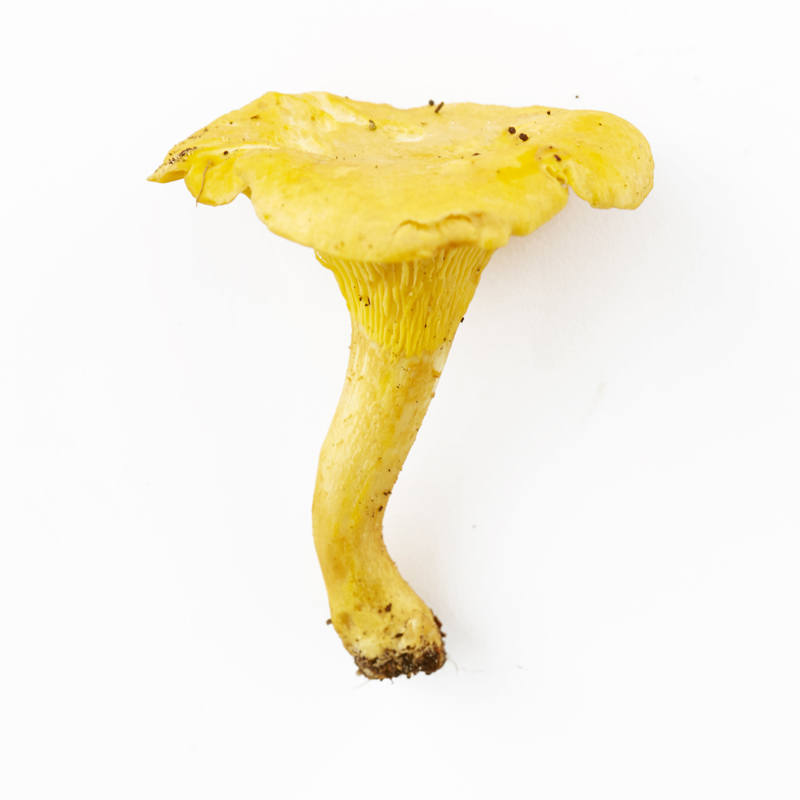 Common chanterelle
The star of the forest floor, common chanterelles are indisputably the most sought-after mushrooms on our latitude.
Where to Find It

The common chanterelle is a superb eating mushroom that can be picked even in winter, when there's not much else available to mushroom foragers.  

Deciduous forests, coniferous forests.

When to Find It

If there's been sufficient rain, chanterelles will pop up in large numbers as early as the beginning of summer, but common chanterelles normally fruit in August.

Entire mushroom: June, July, August, September, October, November.

How to Spot It

Common chanterelles are lovely, yellowish-orange mushrooms with caps between three and ten cm in diameter. Their stems grow up to a couple cm thick and rarely more than eight cm tall. Firm and often fleshy with wavy edges, the caps of golden chanterelles start round, but gradually sink in the center, where a deep depression forms. They have yellow ribs and veins on their underside that fork out far down the stem. The stem often tapers toward the ground and is the same color as the rest of the mushroom.

How to Pick It

Carefully twist the chanterelles loose at the foot and cut off the bottom part.
On the palate

Common chanterelles have a sharp peppery and somewhat bitter flavor that disappears after cooking. Their flesh is firm and fibrous.

Aroma

Common chanterelles have a distinctive apricot scent.
Preparation

It may be necessary to carefully rinse your chantarelles—especially if you've picked them in spruce plantations and if there's a lot of forest residue on the mushrooms that can't be brushed off. Don't eat them raw, but fry or blanch them for a few minutes in water or white wine. Sauté chantarelles on relatively high heat for a few minutes for juicy, crisp results, or for 15 minutes if prefer them more caramelized. Lower heat will turn the mushrooms into a brown, watery mush.

Uses

Chanterelles are delicious fried in goose fat, butter, or olive oil. They pair well with apricots, herbs, ginger, and pepper. Fold them into a risotto, or spread them on good bread with a crystallized cheese and smoked ham. Roasted chanterelles make a great filling for mushroom quiches and are well suited to soups, sauces, and braises. You can also fry them with garlic and cream or make ice cream from chanterelles.

Storage

Store the chanterelles in an airtight plastic container inside the crisper drawer of your refrigerator, where they will keep for up to a week. Freeze, salt, or pickle the mushrooms that you don't use right away to extend their shelf life. If you freeze the chanterelles, fry them first, as otherwise they might become bitter. You can also wash and store them in olive oil with some herbs such as marjoram or thyme, but this will shorten their shelf life.

Substitutions

Other types of chanterelles can be substituted for golden chanterelles.
Risk of misidentifying the plant
Common chanterelles can be confused with pale chanterelles and false chanterelles, which don't have theit characteristic apricot smell. Pale chanterelles are also stronger and paler in color than common chanterelles, while false chanterelles have softer, thinner stems and are dark brown near their feet. False chanterelles aren't toxic, but are rather watery and boring in taste. A more unfortunate mix-up would be with the toxic brown roll-rim, which also grows under trees, but has a pronounced inrolled rim along the cap.