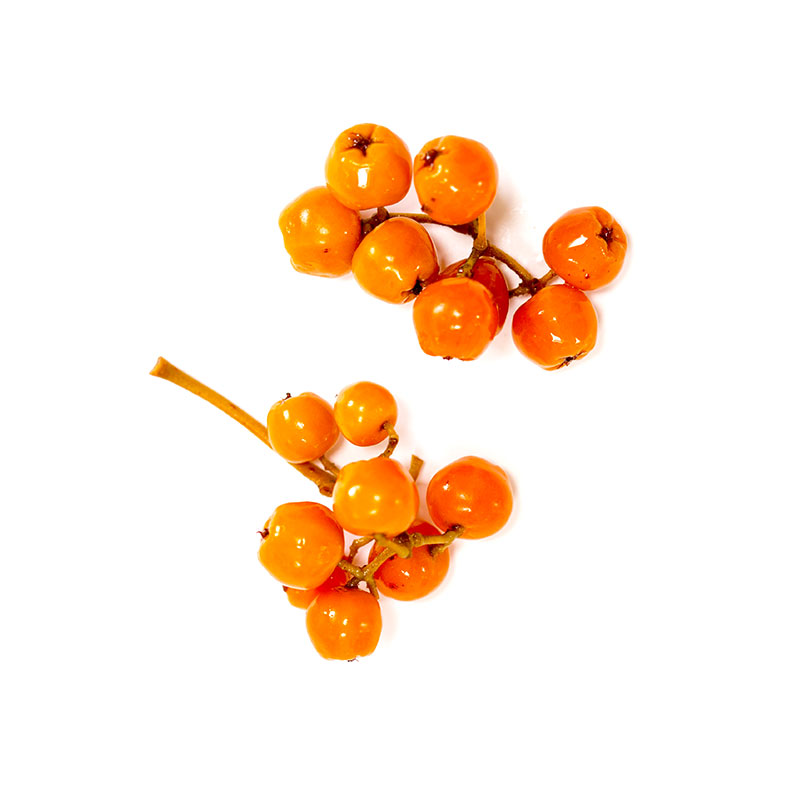 Rowan
They're almost legendarily sour, but when rowan berries are prepared correctly, they taste delicious. Even though the fox couldn't reach them, the berries—and the furled leaves of the rowan tree—are worth welcoming into your kitchen
Where to Find It

Rowan is fairly common and can grow in all many kinds of soil. It likes light, so it tends to grow singly in open landscapes, or as ornamental trees in gardens and parks.

Salt marshes, deciduous forests, coniferous forests, towns, hedges.


When to Find It

You can pick the leaves before they unfurl from the end of April and into May; pick the berries in August and September.

Shoots: April, May.
Berries: August, September.


How to Spot It

Rowan is a multi-stemmed bush or small tree that measures 10-12 meters. In general, its berries, which grow in large clusters, are orange-red, though some rarer species' are yellow, green, or white. Rowan berries are rounded and look like apples, but are the size of peas. The tree fills out in mid-April with oblong, serrated leaves that are dark green on the surface, and lighter on the underside. Its bark is grey to reddish-brown. The rowan tree blooms with small, creamy white flowers from the end of May.

How to Pick It

Pick the still-furled leaves and ripe berries. The rowan tree tends to sprout so many shoots and berries that its branches get too heavy. Forage evenly from them to ensure the weight is equally distributed.
On the palate

Raw rowan berries have a bitter, tart flavor, while the leaves taste sweet like marzipan. They snap nicely and gradually reveal their flavor on the tongue with a slight tingle.

Aroma

The flowers of the rowan tree have a sweet scent.
Preparation

Rowan berries contain a substance that can cause stomach problems, but this effect can be eliminated if they're cooked—typically by boiling.

Uses

Use the berries in schnapps, jelly, ice cream, and compote. Bake an apple rowan berry bun or use rowan berries more generally when you want to balance out sweetness with a bit of acidity; they also add character and depth. You can use the leaves in a

Storage

Leave the berries on the stems until you're ready to use them. You can store the berries and leaves for up to a couple weeks in the refrigerator in an airtight container.

Substitutions

No equivalent substitutions.
Risk of misidentifying the plant
Some species of rowan found in Denmark are more interesting than others—but all of them contain a substance that may cause stomach pain if the berries are eaten raw. Whitebeam and mougeot's whitebeam have mealy berries compared to common rowan, which luckily is the most common in Denmark.
Ingredient used in
Alternative ingredient in