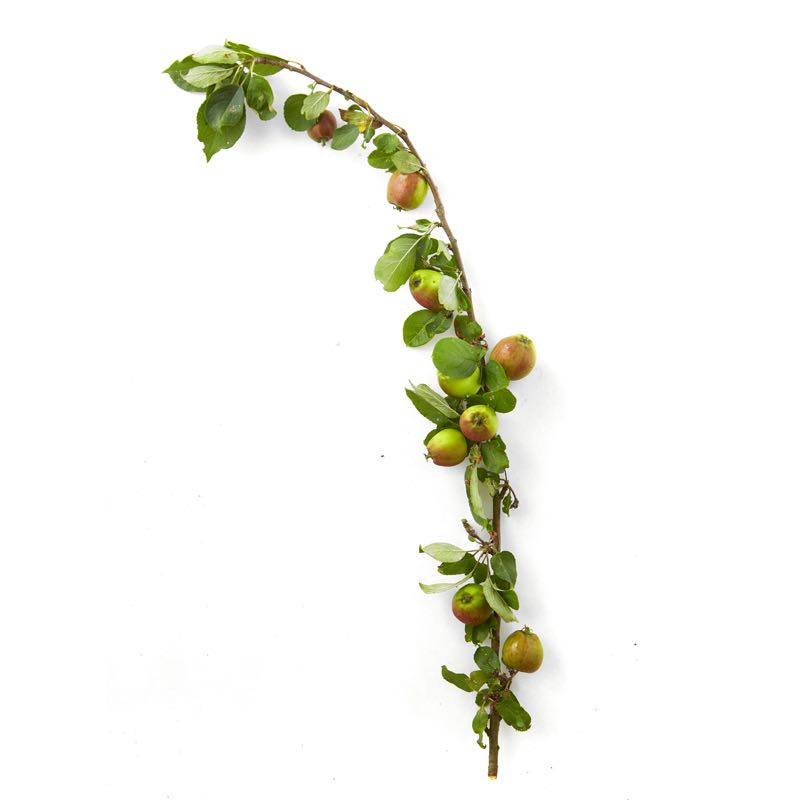 Wild apple
Wild apple is a collective name for all of the incredibly interesting, nearly inedible, and truly delicate apples that grow at random in the forests and pastures of Denmark. They're unnamed apples brought forth by nature itself.
Where to Find It

The apple doesn't fall far from the tree, but the seeds can very well travel a bit farther before taking root. You may be lucky enough to happen upon wild apples any place where apple trees can grow—especially where the soil is dark and saturated. They thrive best in bright, open forests and at the edge of woods, in hedges, copses, and pastures.

Deciduous forests, coniferous forests, towns, hedges.


When to Find it

Most wild apples are ready for picking around September and October, and some as early as August.

Apples: September, October.


How to Spot It

Once the seeds from noble, cultivated apple trees are carried away and shoot up as illegitimate children, they become bushes or small trees that bloom in May and June with small, white or pink flowers. Unlike their domesticated relatives, many wild apples are no bigger than three or four centimeters in diameter.

How to Pick It

If the apple doesn't easily separate from the branch when tugged, it's not ripe yet. A perfectly picked apple has only a short stem—no leaves or twigs. To find out whether the apple is ripe enough, you can cut it down the middle and look at the seeds. The darker they are, the riper the apple.
On the palate

Many wild apples tend to the tart side, but there are others that burst with sweet, honeyed or floral flavors. You can even find bitter wild apples that can be used for cider. As an apple gatherer, there's nothing to do but taste-test your way around and find precisely what matches your preferences—or delight in whatever you find. Due to the strange way that the apples form, two self-seeded trees that grow beside one another can taste completely different, even if they sprouted from seeds from the same mother plant. Wild apples can be crisp and crunchy, dull and mealy, and everything in between. Their skin can be tough and thick or thin as paper. Some wild apples have large cores that are crammed with seeds; others are almost all fruit.

Aroma

Wild apples smell fresh and sweet.
Preparation

Due to the diversity of flavors the wild apples can have, they react very differently when cooked, so you'll have to experiment through trial and error. Generally apples can easily tolerate cooking, which often brings out their sweetness and aroma. Frying especially highlights their sweetness, and imparts something like a glaze to the fruit. Most of the tart, exciting aromas in an apple are in the peel and core, so incorporate them in your cooking as much as possible; they can be boiled on their own, for example, in a little liquid.

Uses

Use the apples in sweet or savory dishes, in classic dishes such as Danish apple pork, or in apple pie. Add apples to salads to give them a bright crunch, or incorporate them into stews such as curry. You can also press wild apples to make juice or cider. When cooking with wild apples, you'll always need to balance out the flavors, perhaps by using a classic, cultivated variety as the base of your dish and finessing its flavor with the more unusual nuances of wild fruit.

Storage

Set your apples on their blossom end (the bottom) in a cool, dry place. They'll keep for several months, and over time, their flavor will deepen. If an apple goes bad, get rid of it before the rot spreads to its neighbors.

Substitutions

In boiled dishes you can substitute apples with rosehips, which have much the same flavor.
Risk of misidentifying the plant
There is no risk of mistaking the plant for another dangerous or undesirable plant. In some cases, however, wild apples may be confused with wild pears.