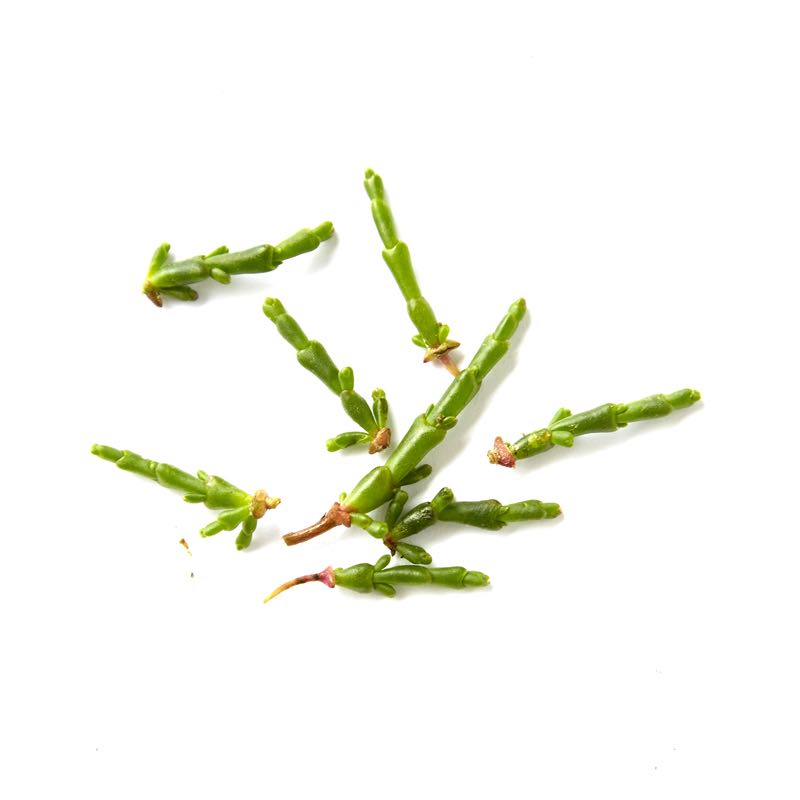 Common glasswort
Common glasswort has an appealing crisp snap and a special salty flavor that has made it popular in many restaurants. In the past, when salt was expensive, people used glasswort as a substitute.
Where to Find It

Common glasswort has adapted to harsh environments in the open areas along the coast. It grows in large colonies in marshes that are regularly flooded with salt water. It needs salt water around its roots to survive, so it will grow far out in the ocean, in small salt lakes, or in the mud and mire.

Salt marshes, marshlands.

When to Find It

You can pick glasswort from June until September.

Entire plant: June, July, August, September.

How to Spot It

Common glasswort looks like a small, spineless cactus that branches out with many short, jointed stems. The stems are round, fleshy, and succulent, and they form pairs above one another. The plant can grow to be 30 cm tall and can vary in color from bright green to reddish. Over the course of the season, glasswort gets thicker and woodier.

How to Pick It

Clip or cut only the top half of the plant so it will continue to grow. Later in the season, when the glasswort has become woodier, you should cut only its top third. Glasswort grows in loose ground, so you'll easily pull up the entire plant with its roots if you try to pick it by hand.
On the palate

Common glasswort tastes salty with a hint of sweetness and the minerality of fresh spinach. It's crisp and succulent to the bite. Over the course of the season, the bottom part of the plant develops a fibrous thread that runs up the middle of the plant. It's still good to eat, but you'll have to tear the flesh off the stem with your teeth.

Aroma

Common glasswort has no particular scent.
Preparation

Cook common glasswort gently, or it will lose its crispness. You can sauté it quickly or blanch it for 30 seconds to give it a very crisp snap; let it cook for three minutes if you prefer it softer. Puréed, it lends its color and saltiness to oils; it can also be pickled or used as a garnish. Raw glasswort is typically used in salads or dressed and served on its own.

Uses

Common glasswort can be used as a salty, crisp ingredient in any dish that would otherwise take sea salt. You can use it to season rich or bland preparations, like eggs or cream-based dishes such as fricassee. It contributes a mild saltiness that isn't overpowering to seafood preparations. Try using common glasswort with fish, potatoes, bronze fennel, pasta, and shellfish such as crab, crawfish, and mussels. It can also be used in sweet preparations like caramel or salty licorice.

Storage

Store the common glasswort in a sealed bag or airtight container inside the crisper drawer of your refrigerator, where it will stay fresh for a little over a week.

Substitutions

Grassleaf orache can be substituted for common glasswort.
Risk of misidentifying the plant
There is no risk of mistaking the plant for another dangerous or undesirable plant.