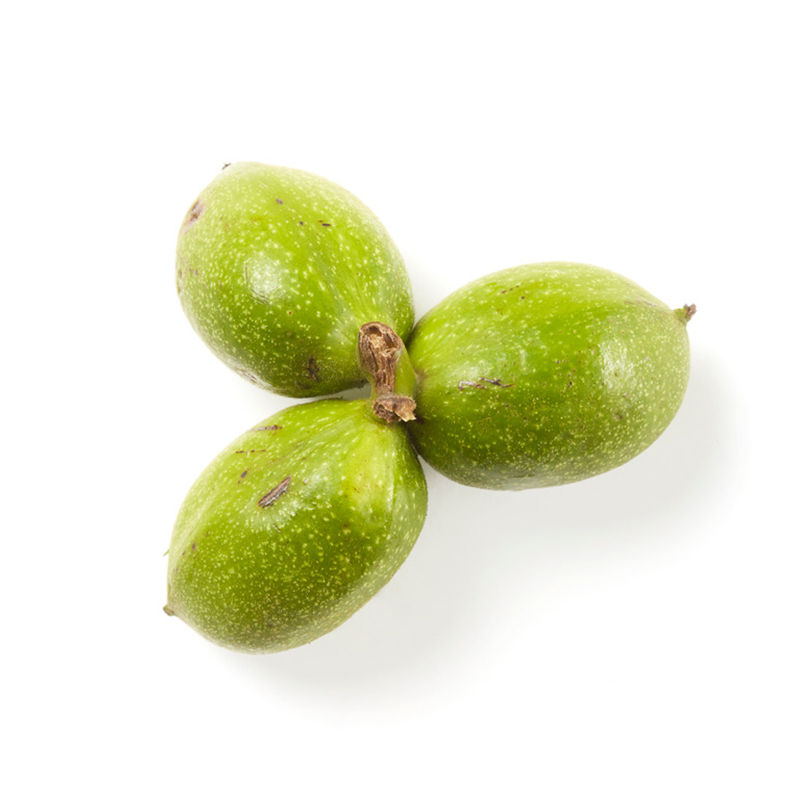 Walnut
"Every careful and sensible housewife pickles green, unripe walnut fruits on Saint John's Eve, which protect against the plague and fortify the stomach." Or so goes a 400-year-old saying. But you don't need the plague as an excuse to pick walnuts, because they're delicious in cooking, whether green or brown.
Where to Find It

Walnut trees grow in the northernmost limits of Denmark, where they're found together with other hardwood trees at the edge of forests, in parks, and in gardens. They need lots of light, so don't go looking for them in dense forests, but in places where their large crowns can really spread out.

Deciduous forests, towns, hedges.


When to Find it

Harvest unripe walnuts in early July; the ripe nuts will be ready from the end of August until September or October.

Unripe nuts: July.
Ripe nuts: August, September, October.

How to Spot It

The walnut tree is a large hardwood tree—it's not unusual for it to grow to 20-30 meters tall—with a broad crown. On young trees, the bark is olive green, though it will turn more silvery with age. The oval leaves are light green and leathery. The terminal leaf on each branch is larger than the rest. Unripe walnuts are egg-shaped, greyish-green in color, and very aromatic. In autumn, the nut falls and turns a darker color, so you can at last see the ripe seed kernel's yellow-brown shell peak through.

How to Pick It

You can either pick walnuts in early summer when the green, unripe nuts are out, or in fall when the seed kernels have ripened. Clip green nuts from the tree, and gather ripe ones from the ground.
On the palate

The skin on fresh, green nuts in particular is bitter and makes your lips pucker. The nut has a slightly acidic aftertaste and is packed with umami flavor. It leaves a dry and mealy feeling in the mouth, especially if the nut is ripe. Walnuts are high in fat—more than hazlenuts, for example.

Aroma

Walnuts smell of wood and bark.
Preparation

Wear gloves when handling the green walnuts; the shells contain a black pigment that is very difficult to get off your hands. Remove the brown skin before eating the nuts raw—even though it's a bit tedious. The green, unripe nuts are commonly used in schnapps and preserves, though you'll first have to make sure that they're sufficiently pliable. To do this, stick a sewing needle into the nut; if there's too much resistance, the nut is not enough to use. Ripe nuts will often be wet and dirty after their stint on the ground. Rinse them as well as you can and give them a sodium benzoate bath to kill any mold, which will reduce the nuts' shelf life.

Uses

With their rich, nutty flavor, walnuts can be used in salads, pâtés, breads and cakes. They also work well in schnapps and as a preserved Christmas treat. If using them in preserves or schnapps, pick the nuts at the end of spring, while they're still green and haven't yet formed hard shells. One to two walnuts is plenty for a bottle of clear schnapps or vodka. An easy way to use ripe walnuts is to coarsely chop and dry roast them in a pan. Sift out the bad bits and pour acacia or flower honey over them and let sit for a few minutes. Serve the honeyed walnuts as a side with cheese, or with Christmas dinner

Storage

If the fresh nuts are stored in a place that is too dry, they'll shrivel and lose their crunch. To extend their shelf life, crack them and freeze the seed kernels—at first individually on trays, then in bags. Ripe nuts must be kept from moisture, or they will quickly go moldy. Make sure to dry them well on a rack above a radiator as soon as you've gathered them, or after they've been washed.

Substitutions

No equivalent substitutions.
Risk of misidentifying the plant