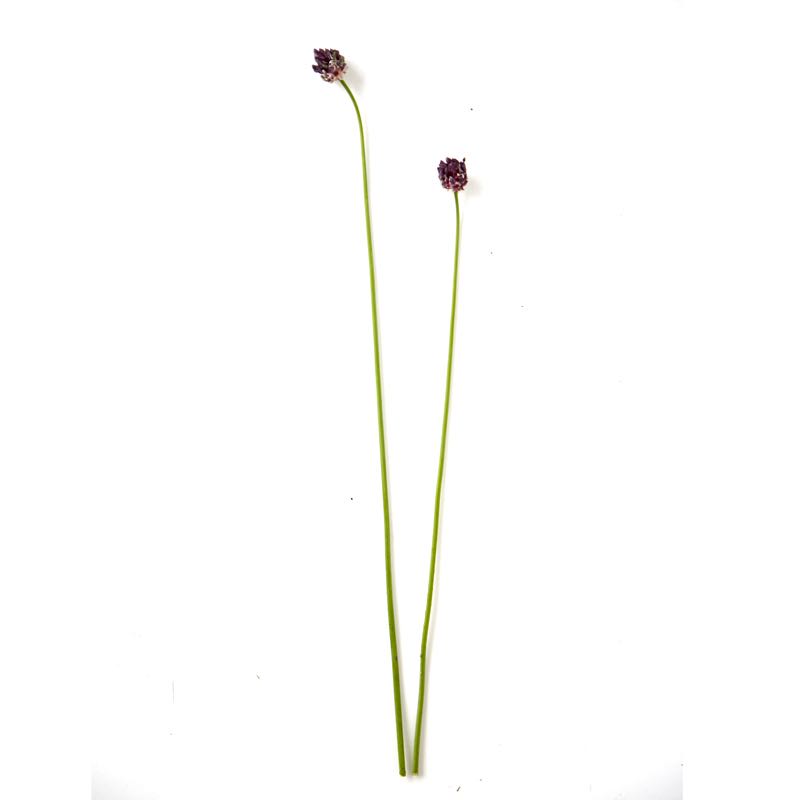 Sand onion
Sand onion is a tasty allium that resembles a small onion. It was once cultivated as vegetable in herb gardens all across Scandinavia and was the fall-back of choice when onion wasn't available.
Where to Find It

Sand onion thrives in nutrient-rich, dry, or slightly moist soil all over Denmark, though it is rarer in northern and western Jutland. You'll generally find it in coastal areas in full sun. Look for it along roads and paths, at the edge of woods, in areas with tall, wild grasses, and where the beach and meadow merge. Over the course of the summer, you'll find large patches of it, where its purple flowers seem to float over the rest of the vegetation.

Salt marshes, coniferous forests, deciduous forests, towns, hedges, roadsides, grasslands.

When to Find It

You can pick sand onion from April until July; the flowers bloom in July and August. You'll find the bulbs from July until September.

The plant: April, May, June.
Flowers/seeds/bulbs: July, August, September.

How to Spot It

Sand onion is a bulbous plant that grows anywhere between 20 cm and 1 meter tall. Until it flowers in midsummer, it most closely resembles a very thin onion or a green onion with long, tapered leaves. When flowering, it develops a tall, strong stem that's topped with a spherical purple flower. The flower head is composed of 15-50 tiny bulbils mixed with flowers growing out from the plant. The flowers grow on small stems and almost seem to float up above the flower head.

How to Pick It

In early spring, you can gather the baby leaves by picking them carefully. Gather the plant later by cutting or clipping it off right above the ground. Try not to pull up the bulb with it—that will allow the plant to send out shoots again. You can clip or cut off the flowers and tiny bulbils, but scatter a couple of the little bulbils in the area so new sand onions will grow for next year. Dig up the bulbs at the end of the season.
On the palate

Sand onion has a mild onion flavor that is slightly sweet, and that intensifies when you chew it. Its aftertaste has a hint of bitterness. The bulbils have a stronger onion flavor that is slightly sulfurous. The plant is succulent and crisp. The bulbils pop between your teeth.

Aroma

Sand onion has a mild onion scent. If you break one of its leaves, it will smell unmistakably like onion.
Preparation

Sand onion can tolerate heat, but its mild flavor does best when cooked for a short period of time. You might grill it over high heat for a few minutes, for example, or quickly blanch it. Cooking brings out sand onion's sweetness while toning down its sharpness. Young sand onion can generally be treated as green onion. Like the flowers, the bulbils are best raw, but because they are hard and fibrous, you should cut them into pieces before using them. You can use sand onions whole until they've reached about 30 cm tall.

Uses

Use sand onion like any other allium. Its onion flavor is mild enough that you can serve it raw. Cooked, it has a wide variety of uses: on open-faced sandwiches, grilled with olive oil and parmesan cheese, or folded into an omelet. You can use the tiny bulbils and flowers for both their taste and their visual appeal. Sand onion pairs well with eggs, potatoes, smoked meat, and oily fish like trout.

Storage

Cover the sand onion with a moist cloth and store in a sealed bag or airtight container inside the crisper drawer of your refrigerator, where it will stay fresh for up to ten days. You should store the bulbils in a dry and cool place, where they'll keep for up to one year.

Substitutions

Other bulbous plants can be substituted for sand onion.
Risk of misidentifying the plant