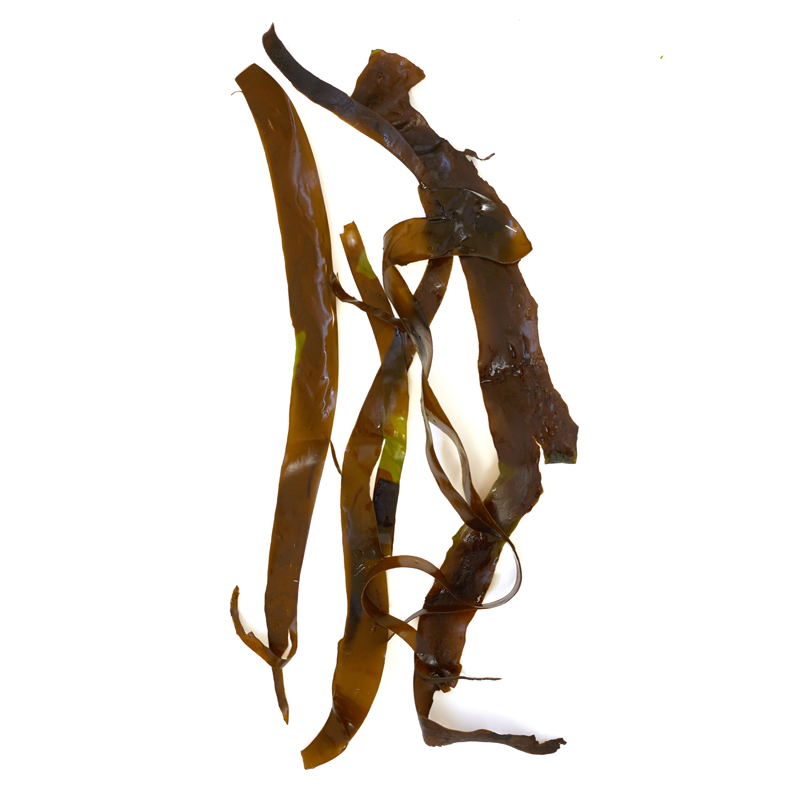 Oarweed
Historically, varieties of kelp like oarweed have been an important source of food for both humans and animals. Its unique flavor makes it a versatile ingredient that can be cooked in many different ways.
Where to Find It

Unlike many seaweeds that fare best in the intertidal zone or shallow water where there is plenty of sunlight, sweet kelp needs to be permanently submerged in water and therefore grows at greater depths—sometimes as far down as 30 meters. Sweet kelp also needs adequate salt levels in the water, so the closer you are to the less salty Baltic Sea, the less likely you are to find it. Sweet kelp often grows in bodies of water surrounded by large forests.

The beach.

When to Find It

Sweet kelp can be picked year round, but it tastes best in the spring.

Leaves: January, February, March, April, May, June.

How to Spot It

Sweet kelp produces a single long brown leaf from its stem, which is attached to rock. The light, ruffled leaf can grow up to three meters long and resembles moist leather.

How to Pick It

Sweet kelp grows from the bottom of the leaf, so the freshest parts will be found stem and leaf meet. When gathering sweet kelp, be sure to cut off the entire leaf above the stem so that a new leaf can grow.
On the palate

Sweet kelp tastes salty—almost like salted black licorice. In the summer, the sugar alcohol, mannitol, accounts for almost 25% of the plant, and once dried it accumulates into a white, sweet powder coating on the outside of the kelp. Sweet kelp also has strong umami notes and is rather tough until you boil it.

Aroma

Sweet kelp has no particular scent.
Preparation

Freshly harvested sweet kelp is very salty and tough, so be sure to either dry it or boil it for 10-20 minutes before eating. Once boiled, it will become more pliable, but will still have some resistance to it. The longer you boil the sweet kelp, the more bitter it becomes. Sweet kelp also tastes great when dried.

Uses

Sweet kelp has many different uses in the kitchen. You can add freshly boiled sweet kelp directly to salads, soups, and stews. The leaves can be roasted with a bit of oil and eaten as kelp chips. Dried sweet kelp can be ground, mixed with sea salt and sprinkled over dishes for a distinct umami flavor that goes particularly well with fish and shellfish, as well as with vegetables. You can wrap fish in a whole sweet kelp leaf before putting it on the grill, or use sweet kelp in your own homemade soy sauce.

Storage

Store the fresh kelp in a sealed bag or airtight container inside the crisper drawer of your refrigerator. Place a moist dishcloth over it so the kelp stays fresh and crisp. Rinsing the kelp with fresh water will reduce its shelf life. Sweet kelp has a tendency to become slimy when kept for much longer than one week. If you would like to store the kelp for a longer amount of time, you will need to dry it and store it in an airtight container. Rehydrated though, sweet kelp quickly becomes slimy and will keep for only one day in the refrigerator.

Substitutions

Sweet kelp can be replaced with other seaweeds.
Risk of misidentifying the plant
There is no risk of mistaking the plant for another dangerous or undesirable plant.
Ingredient used in
Alternative ingredient in