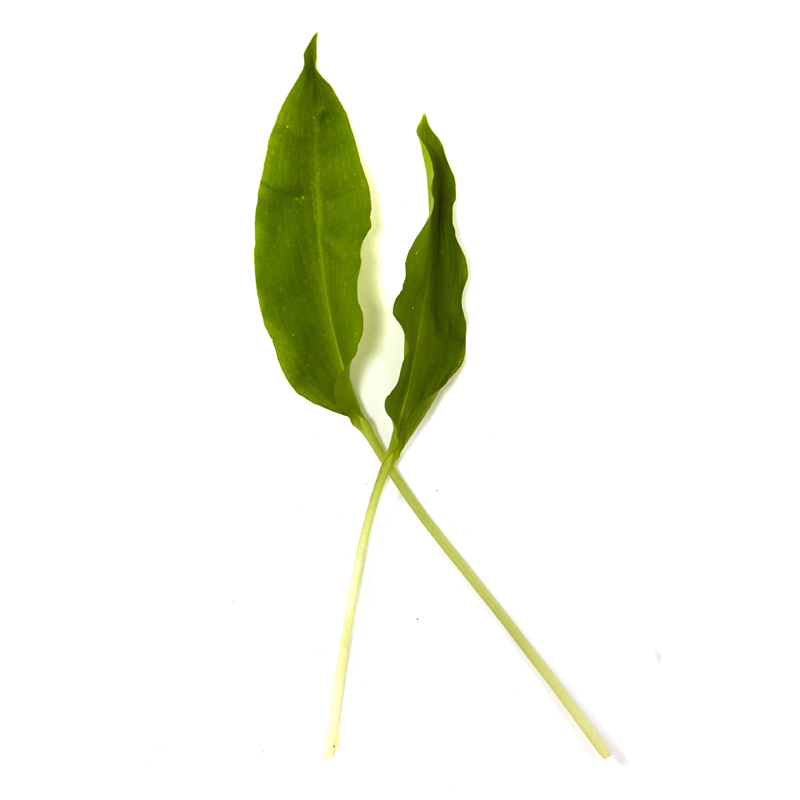 Ramson
Also called wild garlic, ramson often grows in large colonies. They are one of the great delicacies of spring, and have been used in cuisine for around 6000 years. All parts of the plant are worth picking.
Where to Find It

Ramson grows in many of Denmark's forests and parks, though it's rare in western Jutland. It typically forms large colonies in the shady parts of deciduous forests, in hedges, and in city parks where the ground is moist. You can also find smaller populations of ramson under shrubbery. It tends to take over an area, then leave behind an empty forest floor over the course of the summer, when it withers and dies.

Deciduous forests, towns, hedges.

When to Find It

As early as January, the first small shoots pop up and you can harvest the leaves on until June. Ramson blooms in May and for a short period after it withers, you can pick the seeds from the plant to use for capers. You can gather the bulbs in fall and winter.

Leaves: January, February, March, April, May, June.
Flowers: May.
Seeds for flowers: May, June.
Bulbs: September, October, November, December, January, February.

How to Spot It

Ramson has green, oval-shaped leaves and white, star-like flowers that grow in small umbrella-like shapes called umbels. The leaves emanate from the stem at the base of the plant and cluster in a bunch near the ground. The umbels grow on tall, triangular stalks. Ramson can grow to be 20-40 cm tall. As it withers, ramson forms small, round seed pods in clusters of three.

How to Pick It

You can use the whole plant and pick different parts as it develops over the course of the season. Carefully select the parts you want to use, and remember to leave behind enough roots to ensure there are ramsons next year too.

NB!

The Ministry of Environment and Food of Denmark recommend limited consumption, due to limited knowledge about the chemical content.
On the palate

Ramson tastes strongly of garlic and mildly of peas. That garlic flavor intensifies when the plant flowers, but it also takes on a hint of sweetness. The young leaves are silky; the stalk is crisp and juicy. So are the buds; they pop in your mouth when you bite them.

Aroma

Ramson smells strongly of garlic.
Preparation

Ramson can be eaten fresh or cooked. When eaten raw, its flavor is sharp, so be careful to use it in combinations whose other ingredients won't be overpowered. Cooking renders it sweeter, and imparts a slight pea flavor—it also cuts the garlic taste. Ramson adapts well to a variety of different methods; just remember that a long time on heat will strip it of some of its brightness. Otherwise, have fun with it. Ramson can be fermented or dried and ground, The stems and leaves can be briefly grilled over high flame and will still retain their fresh flavor. The flowers can be pickled, or left raw. Ramson buds are especially good if pickled as capers--and they'll keep for up to one year.

Uses

Ramson is a good herb with which to experiment. You can generally use it in place of garlic, but its mild flavor gives it even more possibilities. It can be used to flavor an oil, or in oil-based sauces like pesto and mayonnaise. Ramson pairs well with fish, shellfish, white and dark meat, mushrooms, potatoes, and pasta. Dried and ground, it can be sprinkled over almost any savory dish for an extra jolt of flavor.

Storage

Cover the leaves with a moist cloth and store in a sealed bag or airtight container inside the crisper drawer of your refrigerator, where they will stay fresh for up to one week. The flowers can be stored in the same way, but they will not keep for more than two to four days.

Substitutions

In some dishes that don't need to be cooked, you can replace ramson with garlic mustard, although the latter will be more bitter. You can also use wild onions as a substitute.
Risk of misidentifying the plant
Visually, ramson may be mistaken for lily of the valley, autumn crocus, and mountain arum, all of which are toxic plants. None of them, however, have ramson's strong scent or garlicky taste.