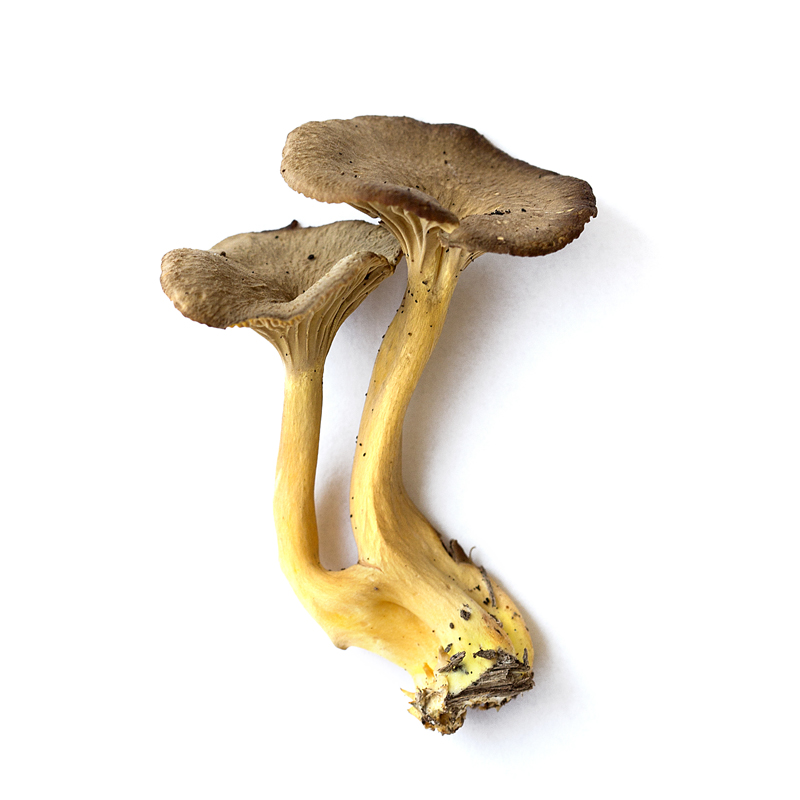 Yellowfoot
It will always be overshadowed by the larger, more distinctly flavored, sunny yellow "common chanterelle," but the yellowfoot mushroom is a very good alternative that can be found in great abundance for several months of the year.
Where to Find It

Look for yellowfeet in the moister areas of deciduous or coniferous forests. Pay attention to mossy forest floors where large colonies of yellowfeet can suddenly pop up, especially after heavy rain. Because of their greyish-brown color they can look like dead leaves, so inspect the forest floor carefully. Once you've got your eyes attuned to them, you can easily find large quantities of yellowfeet.

Deciduous forests, coniferous forests.

When to Find It

As fall progresses, you'll find more and more yellowfeet, right up until the frost sets in. October and November are normally very good months for them.

Entire mushroom: September, October, November.

How to Spot It

The yellowfoot is a charming little mushroom with a smooth cap that rarely grows more than two to four cm in diameter, and up to six cm in height. Its cap is greyish-brown or dark olive with a deep, bellybutton-like depression in the center. The edge of the cap—like that of other chanterelles—is often very wavy. Underneath, it has greyish-yellow ribs and veins that fork out over a stem that is yellowish, flattened, and hollow.

How to Pick It

Cut yellowfeet at the foot with a pair of scissors. Their flesh is thin, so you'll need to gather quite a bit before you'll have enough for a meal.
On the palate

Yellowfoot mushrooms have a slightly spiced and peppery flavor, and a faint bitterness that disappears once cooked. They have significantly more umami flavor than common chanterelles and hint pleasantly of the forest floor. Their flesh is light; their stems are fibrous.

Aroma

Yellowfeet have a mild, pleasant scent.
Preparation

It may be necessary to carefully rinse your yellowfeet—especially if you've picked them in spruce plantations and if there's a lot of forest residue on the mushrooms that can't be brushed off. You shouldn't eat them raw, but fry or blanch them for a few minutes in water or white wine. Sauté yellowfeet on relatively high heat for just a few minutes for juicy, crisp results, or for 15 minutes if you prefer them more caramelized. Lower heat will turn the mushrooms into a brown, watery mush.

Uses

Yellowfeet are delicious fried in goose fat, butter, or olive oil, and pair well with ginger and pepper. They work nicely folded into a risotto, or spread on good bread with a granular cheese and smoked ham. Roasted yellowfeet make a great filling for quiches and are also well-suited to soups, sauces, and braises. You can fry yellowfeet with garlic, cream, and lots of fresh herbs.

Storage

Store the mushrooms in an airtight plastic container inside the crisper drawer of your refrigerator, where they will keep for up to a week. Freeze, salt, or pickle any that you don't use right away to extend their shelf life. If you freeze the yellowfeet, fry them first, as otherwise they may turn bitter. You can also wash and store them in olive oil with herbs like marjoram or thyme, but this will shorten their shelf life.

Substitutions

In a pinch, other types of chanterelles, the conifer tuft, or honey fungus can be substituted for yellowfeet.
Risk of misidentifying the plant
Yellowfeet can be confused with brownish-yellow chanterelles and grey chanterelles, both of which are the same shape and size. Grey chanterelles, however, are solid grey all over, and brownish-yellow chanterelles have less distinct ribs. All three varieties work much the same when cooked.