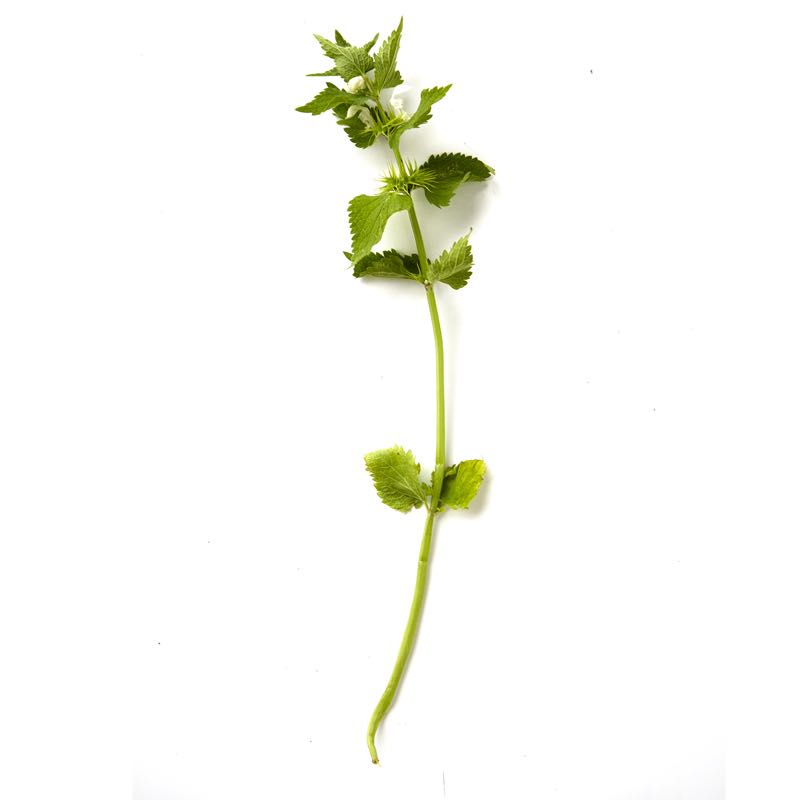 White Dead-nettle
Unlike its cousin the stinging nettle, the harmless white dead-nettle won't hurt you. It is a very common herb that you can pick in copious amounts. It tastes slightly like pistachios, and its white flowers can liven up even the dullest of dishes.
Where to Find It

White dead-nettle prefers areas with nutrient-rich soil, like roadsides, the edge of woods, pastures, parks, and gardens. It likes to grow where there is little or no cloud coverage, which is why you'll find it at the edge of green spaces with plenty of sunlight. White dead-nettles grow socially—that is, with other herbs, including common nettles. Sometimes you will find them in colonies that completely cover a small area.

Salt marshes, coniferous forests, deciduous forests, towns, hedges, roadsides, grasslands.

When to Find It

You can pick white dead-nettles from April until July.

The entire plant or its leaves: April, May, June, July.

How to Spot It

White dead-nettles have a sharp, square stem, serrated leaves that look like spears and small, white flowers. The flowers grow under the leaves in small rings around the stem, and look like small white bonnets or like angels unfurling their wings. The plant most closely resembles stinging nettles, but without the small, stinging hairs on its leaves. White dead-nettles can reach lengths of 50 cm, and creep along the ground as they grow.

How to Pick It

You can use just about all of the young plant in spring, but as the season continues, the leaves and the top 15 cm of the stem will be the most interesting and delicious. Clip back old nettles to allow new shoots to grow, and you'll have tender nettles until fall. Use a knife or scissors to collect the top shoots, and always wear gloves, since white dead-nettles often mix indiscriminately with the stinging kind.

NB!

The Ministry of Environment and Food of Denmark recommend limited consumption as the amount of verbascoside cannot be estimated due to limited studies.
On the palate

White dead-nettles have a mild and pleasant taste with notes of unripe, green hazelnuts. The white flowers are delicately sweet, with a succulent flavor of nectar and honey. The stem is crisp and snappy, and its leaves and flowers are tender. Served raw, the fresh plant can leave the mouth feeling a bit dry.

Aroma

White dead-nettles have a vaguely floral scent.
Preparation

White dead-nettles can stand up to heat. You'll get the most out of the flowers' fine, nutty flavor by quickly grilling them over high heat or flash-frying them in a pan. A fast blanch also preserves their flavor. The flowers won't do well if they're cooked for a long time, but the same is not true for the leaves and stems, which will hold their shape and lend a bit of spice to boiled or braised dishes. Raw white dead-nettles can be added to salads or served on their own with oil-based dressings. When dried, they take on the faint flavor of fresh hay, and can be used in herbal salts or crushed and used for baking.

Uses

Fresh or lightly blanched, white dead-nettles are good together with oily and acidic ingredients such as olive oil and crème fraîche. Fried or blanched, they enliven simple pasta dishes.

Storage

Cover with a moist cloth and store in a sealed bag or airtight container inside the crisper drawer of your refrigerator, where they will stay fresh for up to two weeks.

Substitutions

White dead-nettles can be replaced with stinging nettles.
Risk of misidentifying the plant
There is no risk of mistaking the plant for another dangerous or undesirable plant.