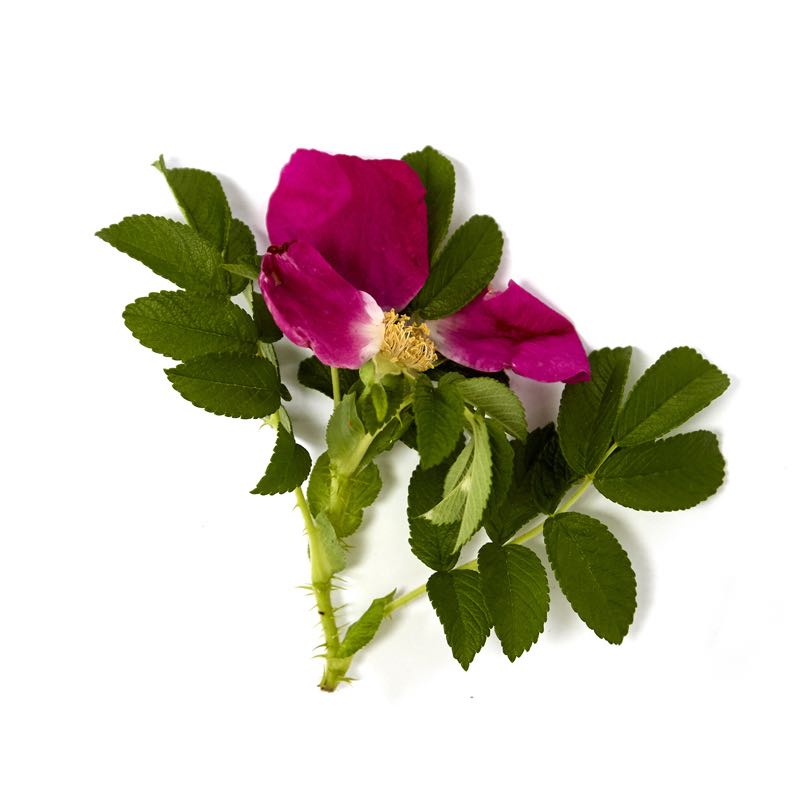 Rose hip
Rosehip is actually a collective name for 10 different varieties of wild roses with edible fruit and flowers. Some species of rosehips are invasive and spread aggressively (they're on the government's list of plants that need to be controlled!), but you won't regret letting them spread to your kitchen counter.
Where to Find It

Rosehip bushes are very common in holiday home areas, where they've been planted as windbreaks since the 1950s. The poor soil conditions were never a problem for the rosehip plant, which spread fiercely in the following decades into the surrounding landscapes, where it gained a foothold on the edge of woods and along roads. Rosehips need sunlight, but are otherwise hardy—they can withstand salty, dry conditions, severe frost, and wind. Their resilience enables them to thrive in many areas, like sand dunes and around the edges of the beach.

Salt marshes, beaches, towns.

When to Find it

You can harvest the flower petals in June and July, and gather ripe rosehip fruit from July, though the latter may very well hang on the bush well into October. A little overnight frost won't hurt them, but as the season progresses, the greater the risk that rosehips will be attacked by worms.

Flowers: June, July.
Unripe fruits: July, August.
Ripe fruits: July, August, September, October.


How to Spot It

Rosehip is a bush that grows up to a meter and a half tall with wrinkled, dark green leaves and short, brown thorns. In summer, it blooms with yellow, pink, or rose-colored petals and has a strong rose scent. When it wilts, it will leave behind large, berry-like fruits measuring six to ten centimeters in diameter. Depending on the variety, the fruits will either be round or ovoid. Most often they're red or orange, but can also be a deep chestnut color or solid brownish-black.

How to Pick It

You can easily pick the flower petals from the rosehip bush, but be careful not to damage the fruiting bodies. Gently twist the fruits off of the bush or snip them off with a pair of scissors.
On the palate

Different kinds of wild rose vary widely in taste. The flower petals generally have a sweet, floral flavor with notes of soap—they're succulent and almost crisp at times. The fruit taste mildly of apple peel with sweet, winegummy undertones. The flavor of each intensifies over the course of the season. Rosehip skin is smooth and firm; the flesh is similar in texture to a mealy apple.

Aroma

The flowers smell of sweet, perfumed rose, while the fruits have a dry, spiced scent.
Preparation

Hollow out the fruits with a spoon and discard the seeds. Only the peels and outer layer of flesh are interesting--they can be eaten raw, boiled, or dried. The fruit is high in vitamin C; if you'd like to preserve that nutrient, you should dry the rosehip rather than boil it. Be patient as you hollow out rosehips—it can take a long time to get out all of the seeds and the tiny hairs on the seeds can also make your skin itch. You may want to keep a pair of thin gloves on hand.

Uses

Use rosehip peels to make marmalade, jam, or chutney, all of which can be served with cheese or venison. Boil a syrup for your morning porridge or make your own spiced schnapps. Rosehips are also a fantastic companion to lobster. The petals have a rosy fragrance and can be used as edible decorations, or to add an aroma to salad or berry desserts (especially those with strawberries). Make rose water from the petals by pouring boiled water over them and letting them steep for 24 hours. You can sprinkle rose water on fruit or desserts—or use it to make an aromatic ice cream.

Storage

If frozen, rosehip peels will keep for at least a year. Store the fresh fruit in a cool place and they'll normally keep for a couple days. Cover the flower petals with a moist cloth and store in a sealed bag or airtight container inside the crisper drawer of your refrigerator. It's best to use them as quickly as possible, but they will normally stay fresh for up to five days.

Substitutions

You can substitute cranberries for something approximating the pungent, fruity flavor of rosehips. It's fine to substitute one kind of rosehip for another, but it's difficult to find another flower with the exact same perfumed scent.
Risk of misidentifying the plant
It can be difficult to tell the difference between various types of wild roses, but there's no risk of confusing them with something toxic. The most common rosehip in Denmark is called rosa rugosa. Its fruit is round, while the dog rose's, for example, are more oblong. A third type of rosehip is the burnet rose, which has tiny, brownish-black fruit. All three behave more or less the same when cooked.