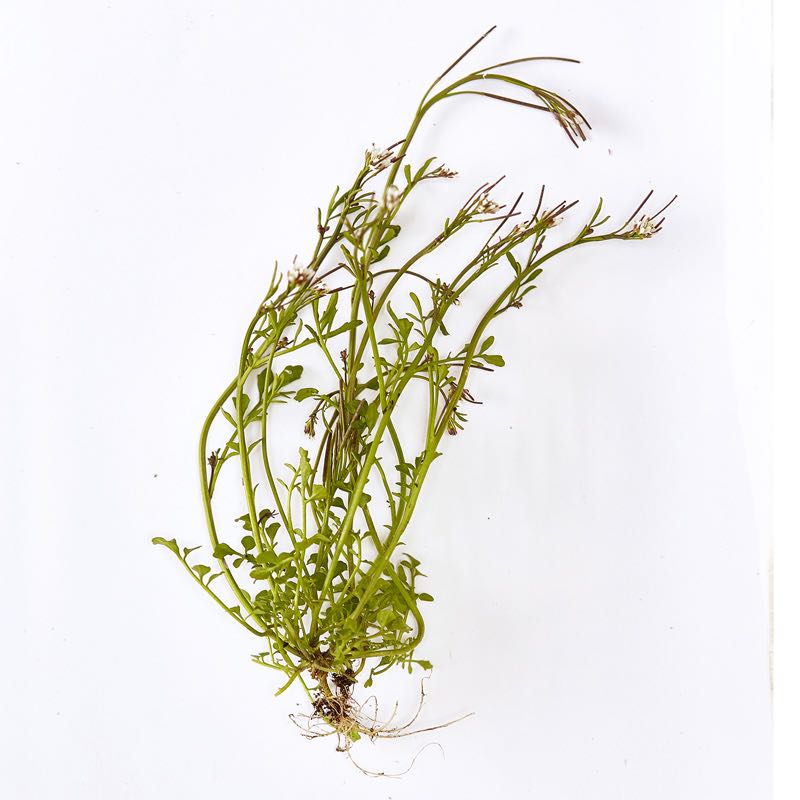 Hairy bittercress
Hairy bittercress is a small plant with the flavor of watercress. It's no stranger to gardeners, as it often takes over any available patch of bare ground. You can pick as much of it as you want, and no one will complain.
Where to Find It

You can find hairy bittercress in open areas with moist, nutrient-rich soil. It's a tenacious plant, even cropping up between flagstones and through the cracks in asphalt. It does particularly well in previously overturned ground that has been left bare. Look for hairy bittercress near houses, around new construction, and in forests where machines were used to dig up the ground in the past year.

Deciduous forests, coniferous forests, towns, hedges, roadsides, grasslands, salt marshes.

When to Find It

You can collect the leaves of hairy bittercress from November until April, but once the plant begins flowering, it becomes tougher in texture and sharper in flavor. You can gather the flowers and flower buds from April until June.

Leaves: November, December, January, February, March, April.
Flowers: April, May, June.

How to Spot It

About the size of a salad plate, hairy bittercress grows low to the ground in a star shape called a 'rosette.' It has many small, round- or oval-shaped leaves on stems that culminate in one larger leaf. The flowers are small and white, with a pale green center.

How to Pick It

You can use both the leaves and flowers of hairy bittercress. During winter and early spring, cut off the leaves at the base of the plant where they gather above the root. Pick the flowers and flower buds carefully.
On the palate

Hairy bittercress tastes like a mixture of arugula, cabbage, and mustard. It has a fresh, sharp flavor, but lacks the bitterness common in most other cress plants. In the winter it has a subtle peppery taste, which increases in intensity just before and while it flowers. The leaves are succulent from December until May.

Aroma

The plant itself has no particular scent, but if you break it into parts, you can get a subtle whiff of cress.
Preparation

Heat kills the flavor of hairy bittercress, so use it raw. It's especially good added to cold dishes just before serving, or as a garnish to warm ones. You can mix it in a soup or sauce after you've removed it from the heat. The flower buds are tasty when pickled.

Uses

Hairy bittercress can be used like horseradish or watercress to add a kick to dishes like beef tartare. Its sharpness balances the fattiness of patés and certain cuts of meat. If used in the right proportions, it's also tasty in fish broth and other strongly-flavored seafood recipes. The flowers pair nicely with more delicate seafood like cockles.

Storage

Cover the hairy bittercress with a moist cloth and store in a sealed bag or airtight container inside the crisper drawer of your refrigerator, where it will stay fresh for up to ten days.

Substitutions

You can replace hairy bittercress with other strong herbs such as cuckoo flower, watercress, or common scurvygrass.
Risk of misidentifying the plant
There is no risk of mistaking the plant for another dangerous or undesirable plant.