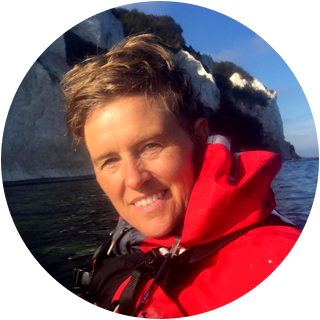 | | |
| --- | --- |
| Name | Kirsten Blicher Friis |
| Workplace | Parnas Natur & Aktivitetspark og Kongskilde Naturcenter |
| Address | Parnasvej 21, 4180 Sorø |
| Phone | 40 24 79 29 |
| E-mail | kbf@vildmad.dk |
Kirsten works as a ranger in Sorø where she has two bases: the Nature Center of Kongskilde at the northern end of Tystrup Lake, and Parnas Nature and Activity Park by Sorø Lake. She hosts public events year round and works with kindergartens, schools, adults, and families. Kirsten has focused on gastronomy and the sensory science of food for 20 years and is particularly interested in how we can use our senses when we cook. She pays special attention to communicating how ingredients go from soil to table, but is also concerned with their cultural history. She uses food and cooking to convey historical points of impact, such as the monks at the Monastery of Sorø, the miller and ryebread bakery at Kongskilde, or the extraction of raw materials from the former gravel pits in Sorø, which today are a treasury of sea buckthorn and wild apples.