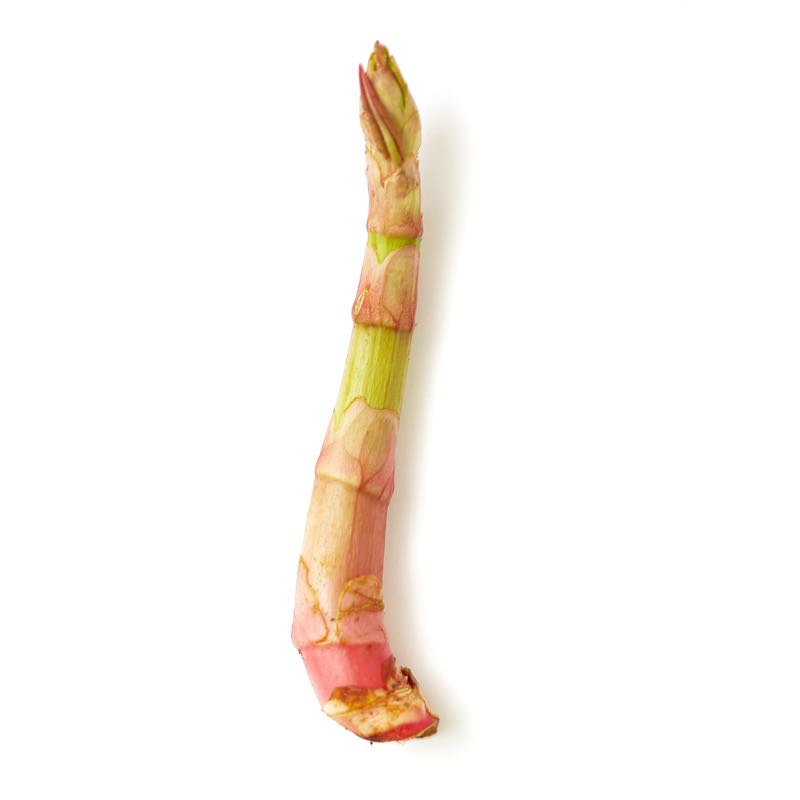 Japanese knotweed
Japanese knotweed is one of the most aggressively invasive plants in Denmark and can take over large expanses of land. Picking it, then, is actually a conservation measure. But very few people know that it's also delicious ingredient that tastes a lot like rhubarb.
Where to Find It

Japanese knotweed prefers to grow in moist, nutrient-rich soil at the edge of deciduous forests or on the banks of streams or lakes. It also takes hold in parks and on the outskirts of construction sites. If allowed to spread, it can cover large areas and grow into small forests.

Streams, lakes, deciduous forests, towns, hedges, roadsides, grasslands.

When to Find It

Japanese knotweed is best in April and May, when it shoots up 5-10 cm a day. If cut down regularly over the course of spring and early summer, it will continue to sprout new shoots until July or even August.

Young shoots: April, May.
Entire plant: April, May, June, July.

How to Spot It

Japanese knotweed has a hollow, red-spotted stem that can grow to be up to two and a half meters tall. Its broad, oval-shaped leaves form a small point at the tip. The stem is jointed and looks like thick, green bamboo. The new shoots are 10-50 cm tall and look succulent, with reddish leaves. Japanese knotweed develops small, white flowers that grow in clusters along spiked stems at the top of the herb.

How to Pick It

The new stems are tender and succulent; the place where the plant turns fibrous, hard, and tasteless is usually visible. Using a knife, cut off the new shoots in a spot where you think the stem is still tender. When the plant gets older, you can pick its soft, succulent top around 30 cm from the top. You can also use leaves that are slightly older. Remember not to throw the unwanted parts of the plant back into nature or put them into compost, as even the smallest piece will quickly propagate.
On the palate

Japanese knotweed has a crisp and juicy snap. The flavor is fresh and acidic like mild rhubarb with notes of citrus, cherries, and clove. Japanese knotweed contains oxalic acid—the same acid that's in rhubarb.

Aroma

Japanese knotweed has no particular scent.
Preparation

Japanese knotweed can tolerate carefully-applied heat, but if you cook it for too long, it'll become slimy. It can be blanched, grilled, or fried, and you can let it caramelize slightly and still retain its acidity. You can bake, pickle, or boil Japanese knotweed to make juice or chutney. Used raw, it can be used as is or marinated, but the stems are a bit thready, so make sure to chop it into small pieces. The older, tougher plants can be incorporated into dishes, but you should peel them first.

Uses

Japanese knotweed is a very versatile ingredient that can add acidity to both sweet and savory dishes. It can take the place of rhubarb in almost any recipe. In savory dishes, its fresh and fruity flavor pairs well with fatty and umami ingredients; you might use it, for example, in a sauce for beef. It can also be the foundation of dishes where you'll be using acidic ingredients. It works well with mackerel, eggs, browned butter, and grilled meats, especially pork. In sweet dishes, balance its acidity with sweet, rich, or bitter ingredients. Here too it can be used like rhubarb in anything from syrup to cakes and sherberts. It works well with cherries, apples, ripe blackberries, or cream-based desserts. Try making cocktails with Japanese knotweed too.

Storage

Cover the Japanese knotweed with a moist cloth and store in a sealed bag or airtight container inside the crisper drawer of your refrigerator, where it will stay fresh for up to three to four days.

Substitutions

Other types of sorrel such as common sorrel, sheep sorrel, and wood sorrel can be substituted for Japanese knotweed.
Risk of misidentifying the plant
There is no risk of mistaking the plant for another dangerous or undesirable plant.